Research & Development
Our aim is to develop safe, high-quality dietary supplements.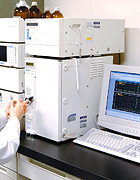 AFC-HD AMS Life Science shares information with the Nihon Preventive Medical Laboratory Co., Ltd., one of its group companies, and has established effective manufacturing processes, from planning/design of new products, prototype production/experiments to full-scale production, thereby securing a robust quality assurance environment.
As for raw materials and ingredients used for manufacturing products, we ensure accurate evaluations of their qualities ( e.g., safety, stability, effectiveness, etc. ) by conducting stringent receiving inspections through the acquisition of all necessary information, such as certificates of origin, manufacturing procedures and quality specifications, as well as clinical trial data ( evidence ) and other academic data.
As regards self-developed products, we have established effective procedures for designing products that are well founded in scientific evidence, while maintaining good compliance. We are also striving to develop even more reliable products by promoting coordinated activities between industry, academia and government.
AFC-HD AMS Life Science has introduced advanced analyzers and manufacturing equipment for prototype production/experiments in order to enhance its R&D capabilities, thereby ensuring efficient R&D for its original products, while working to maintain its responsive management system that allows the company to respond swiftly to various OEM ( original equipment manufacturing ) needs.
As for being an OEM, we already have a record of delivering more than 3,500 products to customers. We are sure that we can develop formulas and offer suggestions that will satisfy all kinds of customer needs, by taking advantage of all the know-how that we have accumulated through past experiences.
We ensure quality assurance by verifying the conformity of machinery, stability of products, etc., the standards of which have been set in advance, during the processes from prototype production to full-scale production, and feeding back the results for future product developments.