Manufacturing Division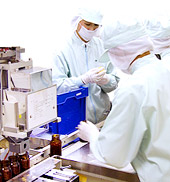 Dietary supplement is a prescribed drug formulation, which is processed though extraction, purification and dryness from natural materials, and very close to medicine. We promise you to provide safety by series of processing and quality control, in addition, hygienic environment and management method.
We handle over 100 raw materials and ensure accurate evolution of their qualities by conducting stringent receiving quality specification and inspection certificate. About forms manufactured here, several forms such as tablets, capsules (soft and hard), and granule, moreover, there are variety of production volume. We address to produce customer-related products as correspondent as possible.
To obtain a certification of International Standard such as ISO9001 Series, we will achieve the further development of quality control systems.
July, 2005 Certificated of "GMP-certificated plan authorized by the JHNFA"
GMP is an abbreviation of "Good Manufacturing Practice".
Introduction of production management system
Major production / test facilities